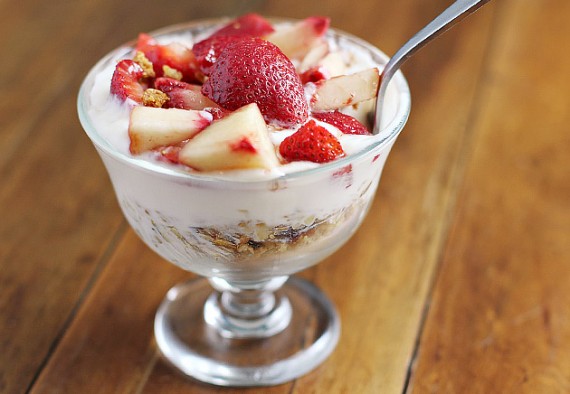 OK, so when we talked last week about the Cranberry, Coconut and Almond Granola, I said I'd been using it to make granola parfaits for breakfast.
Truth: when I don't have the right breakfast, I start daydreaming about lunch at 10 a.m.
A bowl of cereal doesn't cut it for me.
Neither do pancakes or waffles, which is too bad, because I love pancakes and waffles.
But granola parfaits? They work. They're fast and cold, like cereal, but the extra protein in the yogurt keeps me fuller longer. And there's just something nice about starting the day with a pretty breakfast.
You deserve to wake up to something that looks like it was made by singing cartoon birds. For real.
I also love that it's really easy to change up these parfaits when I need some variety.
Bored with the granola? Try a different recipe, or pick up a box of your favorite store-bought cereal.
Need a change from the vanilla yogurt? Change to a fruit flavor, or switch to Greek yogurt with a little honey.
And you can go crazy with the fruits. Peach-and-strawberry is my favorite combo right now, but you could go with banana and orange or pineapple, peach and blueberry or blackberry, chopped apple or pear – whatever's in season and makes you feel like your tongue is made out of gold.
You deserve that, too.
Sending the cartoon birds your way …
Granola Parfait with Peaches and Strawberries

For breakfast on the go, pack the parfait with the granola on top for maximum crunchiness. Or pack the granola separately, and add it later.


Adapted from "Gale Gand's Brunch!"

Serves 4

Toss the peaches and strawberries together in a bowl. Set aside.
In each of 4 glasses, layer 1/2 cup fruit, then 1/2 cup yogurt, and then 1/3 cup granola (if you want to keep the granola crunchy, if not, feel free to reverse the order). Serve immediately.

Nutritional Information (Per Serving) – calories: 295, fat: 9g, carbs: 46g, fiber: 5g, protein: 10g
[ad name="space"]