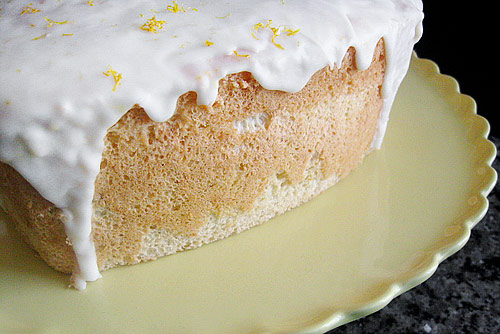 Do you know how many of my friends have announced they're pregnant in the past week? FOUR. All due in August. Someone should probably notify the CDC. I've seen more sonogram pictures in the past seven days than I've ever seen in my entire life.
So, it's 37 degrees, but I'm thinking about all of the excitement coming this summer, hence this Lemon Chiffon Cake, an award-winner from Jen Castle of Hell's Backbone Grill. It's light and citrusy, like sunshine on a plate. I topped it with a lemon glaze, but if you live where the berries are ripe, this cake would be delicious with whipped cream and fresh berries. Or Cool Whip. I'm not here to judge you.
There's so much to look forward to this summer, my mind is boggled. Showers and babies and, for the first time in a long time, I'll be the skinny one. Jazz hands!
Lemon Chiffon Cake

Adapted from Jen Castle of Hell's Backbone Grill (via "O, The Oprah Magazine")

Makes 12 to 16 servings

2 cups cake flour
1 1/2  cups sugar
1 tablespoon baking powder
1 teaspoon salt
3/4 cup water
7 egg yolks
1/2 cup vegetable oil
Grated zest of 2 lemons
2 teaspoons vanilla
8 egg whites
1/2 teaspoon cream of tartar

Glaze:
1 1/2 cups confectioner's sugar
2 tablespoons plus 1 teaspoon fresh lemon juice
2 tablespoons melted butter
1 teaspoon grated lemon zest

Preheat the oven to 325 degrees F.
In a large bowl, combine the flour, sugar, baking powder and salt. Make a well in the center; add the water, egg yolks, oil, lemon zest and vanilla. Whisk the dry ingredients into the yolk mixture until the batter is blended and smooth. Set aside.
In a large mixer bowl, beat the egg whites and the cream of tartar at medium-low speed until foamy. Gradually increase the speed to high and beat the whites until stiff (but not dry) peaks form. Gently fold 1/3 of the beaten whites into the batter with a rubber spatula just until blended. Fold in the remaining whites just until combined. Pour the batter into an ungreased 10-inch tube pan.
Bake 1 hour, or until the top springs back when touched with a fingertip and a cake tester inserted comes out clean. Immediately invert the cake, still in the pan, onto the neck of a wine bottle or a large funnel. Cool completely.
In a medium bowl, whisk together the remaining ingredients until smooth.
Remove the cake pan from the bottle. Run a long thin knife around both edges of the cake pan. Invert the cake onto a serving plate and remove from the pan. Spread the icing on top of the cake, allowing some of the glaze to drip down the sides.
[ad name="space"]