You thought you had one more weekend, right?
Nope, this Sunday is Father's Day, which means it's time for more Unstoppable Father's Day Recipes. (Click this link to see 2011's picks.) Because what your dad (or baby-daddy) really wants is a hug, something sweet and maybe a Lowe's gift card.
See that Chocolate Heaven Cake with Chocolate Buttercream up top? That's a solid choice. A chocolate layer cake covered and filled in some of the dreamiest frosting I've ever worked with. Make that, and your dad might forget how much of his gray hair (or lack of hair) is totally your fault.
My dad and brother-in-law inhaled this No-Bake Cherry Cheesecake. The sweet, slightly tangy filling perfectly balances the bite of the cherries. And those ladyfingers? They were stuck together in the package, so I just left them that way and bent them around the cake. When something looks fancy with slacker effort, everyone wins.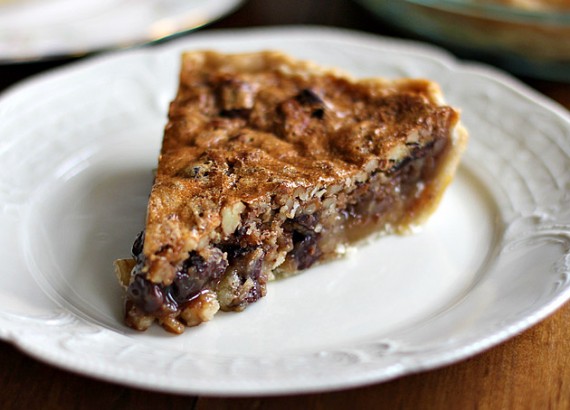 Chocolate Pecan Bourbon Pie. Nothing says "World's Best Dad" like chocolate, pecans and bourbon. This pie is a religious experience. Oh, and you can take it all the way to church with the bourbon sauce included with this recipe. Have mercy.
Remember that time you broke curfew and bumped into your dad getting ready for work at 4 a.m.? Yeah, that wasn't pretty, but this is! It's a White Chocolate-Strawberry Pie filled with cream cheese, yogurt and white chocolate and crowned with fresh strawberries that says, "We survived the teen years! High-five!"
Peanut Butter Love Pie. This is the sort of pie you just sink down into. I drew the heart with toothpicks and outlined it with chocolate chips, but if you're feeling ambitious, you could write something like "Happy Father's Day" or "Sorry I backed into the garage!"
Key Lime Pie. One of my daddy's all-time favorites. Creamy, tangy lime filling under a cloud of sweetened whipped cream. It's like a vacation in a graham cracker crust.
Chocolate Chip Cookie Cake. Who wouldn't love a huge, golden-brown, chocolate chip cookie with a soft, puffy center and crisp, caramel-colored edges? Pair it with ice cream and maybe a little chocolate or caramel sauce, and the Father's Day party is ON.
Triple-Threat Rocky Road Cookies. Holy goodness. These cookies are so full of chocolate, pecans, walnuts and marshmallows that they barely hold together. Outside, they have a crisp, thin layer that fools you into thinking they might be dry. But then you take a bite, and – hello – these cookies are melt-in-your-mouth moist inside. Crunchy, chewy, sticky, gooey – don't forget to save some for your dad.
My brother-in-law always says these Peanut Butter Bars are "what a Reese's wishes it could be." A layer of peanut butter cookie topped with sweetened whipped peanut butter and chocolate glaze. Amen.
Drunken Blondies. So maybe you used to tell people that Elvis was your real dad. These brown sugar beauties – sweet, rich, chewy and buttery – will make your dad glad he IS your father!
Take one bite of this Salted Chocolate Pretzel Toffee (aka Crack Bark), and you'll come to with half the pan missing. No candy thermometer required. And you don't even want to know how good it is crumbled over ice cream.
Ice Cream Truffles. One of the easiest desserts ever. Scoop some of your dad's favorite ice cream into truffle-sized balls, roll them in candy bar crumbs, and pop them in the freezer. I used Heath toffee bars, but I'm thinking Butterfinger ice cream truffles could make you the favorite child. And isn't THAT what Father's Day is all about?
[ad name="space"]