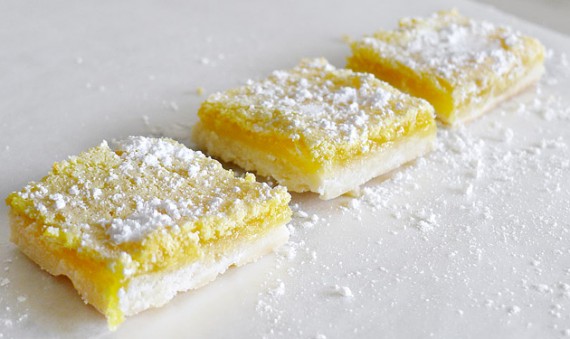 My sister, Jennifer, is back with some old-fashioned lemon bars, straight from the Nashville Area Home Economics Association's spiral-bound cookbook, so you know they're good. Pucker up, Buttercup! – Rebecca

By Jennifer Rather.
Spring is in full whirl in Tennessee. Record highs, baby animals. Everything's flowering, and everyone's sneezing.
I love Spring.
Spring cleaning is in full effect at my house. We girls are tackling the inside, while the menfolk clean up outdoors. This weekend the men tackled the porch. Picture three stair-stepped males, one with a hose, one with a box of detergent and one wielding a scrub brush like a knight with sword.
How did I get them to power-wash half of our wrap-around porch with the fervency of true Crusaders?
I promised them I'd make a batch of Luscious Lemon Squares.
As much as my children love chocolate, they have equal adoration for all things lemon. It makes no sense, but at least it allows for variety.
These lemon squares were a new recipe for us, but one that we are adding to the rotation. They are easy to make and bursting with lemon flavor. The bottom layer is a thin sweet crust that bakes for 10 minutes – the perfect amount of time to whip up the filling. As soon as the crust comes out, pour in the filling, and bake for another 15 minutes or so. If you eat them while they're still warm, they are messy, so I recommend chilling them in the fridge for about an hour before you serve them. They'll be much easier to slice, and they'll actually hold together.
The men said next time I should double-up everything.
I told them, next time, they should double-up and finish both halves of the deck.
Luscious Lemon Squares

Slightly adapted from "The Nashville Cookbook"

Crust:
1 cup all-purpose flour
1/4 cup confectioners' sugar
1/2 cup unsalted butter, softened

Filling:
2 eggs, lightly beaten
1 cup granulated sugar
2 tablespoons all-purpose flour
2 tablespoons fresh lemon juice
1 teaspoon lemon zest

Heat oven to 350 degrees F.
To Make the Crust: In a small bowl, whisk together the flour and sugar. Add butter, and work into the flour mixture with your fingers or a pastry blender until it forms a dough. Press the dough into the bottom of an ungreased 9-inch square pan. Bake for 10 minutes.
To Make the Filling: In a medium bowl, whisk together the eggs, sugar, flour, lemon juice, and lemon zest. Pour over the warm crust.
Bake until the filling is set but not browned, 15 to 20 minutes.
Place the pan on a wire rack to cool. Dust with confectioners' sugar, and serve immediately. Or, wrap them in plastic wrap, and chill in the refrigerator before serving.
[ad name="space"]