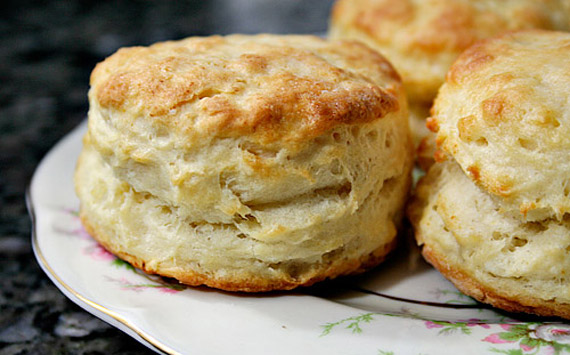 Last week, I read that you should only have biscuits once a year. From a nutritional standpoint, I'm sure that's true, but since when do the rules of nutrition and "should" apply to biscuits? I can only assume the writer's never had the pleasure of waking up to a fresh-from-the-oven, hot homemade buttermilk biscuit, split and dripping with butter and honey, oozing strawberry jam, or packed with sausage or country ham.
Pure soul food.
My latest biscuit obsession is Scott Peacock's recipe for Hot Crusty Buttermilk Biscuits. They come out of the oven golden on the top and bottom, tender on the inside, with a nice snap from the outside crust and a little tang from the buttermilk. I can't wait to try his suggestion for topping one with "sautéed asparagus and mushrooms and a runny poached egg."
That's living in the high country.
You'll notice a few unusual things about the recipe.
The recipe calls for homemade baking powder (a simple mixture of cream of tartar and baking soda), because commercial baking powder can have a metallic taste. Blame it on the chemicals and aluminum salts.
You're going to prick the dough with a fork, just as you would a pie crust, for even rising.
Peacock specifically warns you against twisting your biscuit cutter, which is an excruciatingly hard habit to break. Twisting the cutter seals the sides of the dough and keeps the biscuit from rising. He's also against using a drinking glass as a biscuit cutter, since it can create a vacuum that compresses the biscuit.
Instead of rerolling the scraps, the recipe calls for baking them, as is.
If you have your ingredients and equipment ready (your mise en place) before you start, you will love the process of making these biscuits. Just work quickly, get them into the hot oven while the fat's still cold, and you won't believe you actually made the awe-inspiring wonder that comes forth. So golden. So buttery. So warm. Just don't grab the last one if there's a power outage. You might end up with a fork sticking out of the back of your hand.
They're that good.
P.S. If you'd like to see a video of Scott Peacock making these biscuits, you'll find his "Today" show demo here.
Hot, Crusty Buttermilk Biscuits

Adapted from Scott Peacock's "The Art of the Biscuit," reprinted in "Best Food Writing 2008"

Makes 15 (2 1/2-inch) biscuits

5 cups sifted White Lily flour or other unbleached all-purpose flour (measured after sifting)
1 tablespoon plus 1/2 teaspoon homemade baking powder (recipe follows)
1 tablespoon kosher salt
1/2 cup packed lard (or butter), chilled
1 3/4 cups chilled buttermilk, plus a few tablespoons more if needed
3 tablespoons unsalted butter, melted

Preheat oven to 500 degrees F. Put the flour, homemade baking powder and salt in a mixing bowl. Whisk well to combine. Add the lard and, working quickly, coat in flour and rub between your fingertips until about half the lard is coarsely blended and the other half remains in large pieces about 1/2 inch in size.
Make a well in the flour mixture and pour in the buttermilk. Stir quickly, just until the dough is blended and begins to mass. The dough should be soft and a bit sticky and there should not be large amounts of unincorporated flour in the bowl. If dough is too dry, add a few tablespoons more buttermilk.
Turn dough immediately onto a generously floured surface, and with floured hands knead briskly 8 to 10 times until a cohesive dough is formed.
Gently flatten the dough with your hands so it is of an even thickness. Then, using a floured rolling pin, roll it out to a uniform thickness of 1/2 inch. (If the dough begins to stick to your rolling pin, dust the pin – not the dough – with flour. Flouring the dough at this point will result in dusty-looking biscuits.) With a dinner fork dipped in flour, pierce the dough completely through at 1/2-inch intervals.
Lightly flour a 2 1/2- or 3-inch biscuit cutter and stamp out rounds. (Do not twist the cutter when stamping out biscuits.) Cut the biscuits from the dough as close together as you can for a maximum yield. Arrange cut biscuits on a heavy, ungreased or parchment-lined baking sheet so that they almost touch. Do not reroll the scraps. Just bake the rest of the dough pieces, as is, and enjoy as a treat.
Bake in upper third of the oven for 8 to 12 minutes until crusty golden brown. (Check about 6 minutes into baking and rotate pan if needed to ensure even cooking.) Remove from the oven and brush with melted butter. Serve hot.

Homemade Baking Powder

1/4 cup cream of tartar
2 tablespoons baking soda

Sift together three times the following: 1/4 cup cream of tartar and 2 tablespoons baking soda. Transfer to a clean, dry, tight-sealing jar. Store at room temperature, away from direct sunlight, for up to four weeks.
[ad name="space"]