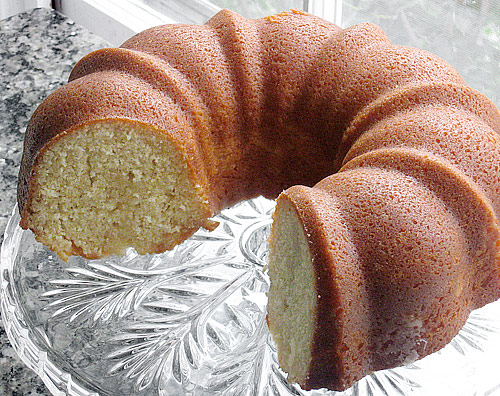 Kentucky Butter Cake is a cake for grown-ups. It doesn't have sprinkles. It doesn't have frosting.
It isn't cute.
But, Baby, this cake has flavor for days. You expect a butter cake to be buttery, but this one goes above and beyond with the real draw: its glaze. This magical glaze (made of, yes, more butter, more sugar and more vanilla or rum extract) is poured into holes poked in the cooling cake, so you don't see any hint of it from the outside. But when you take that first bite, it's the best kind of surprise – moist, buttery and sweet. The taste of an old-fashioned cake with a swing in its hips.
Perfect for sharing, unless you're interested in getting a stent.
Kentucky Butter Cake

Adapted from Nell Lewis, Bake-Off® Contest winner, 1963


1 cup (2 sticks) butter
2 cups sugar
4 eggs
3 cups unbleached all-purpose flour
1 teaspoon baking powder
1/2 teaspoon baking soda
1 teaspoon salt
1 cup buttermilk
2 teaspoons vanilla or rum extract

Glaze:
3/4 cup sugar
1/3 cup butter
3 tablespoons water
2 teaspoons vanilla or rum extract

Preheat oven to 325 degrees F. Grease a 10-inch bundt pan with a nonstick spray that contains flour (like Baker's Joy® or Pam® Baking); set aside.
In a medium bowl, combine the flour, baking powder, baking soda and salt. Set aside.
In the bowl of a standing mixer fitted with the paddle, beat the butter and sugar for 3 minutes at medium speed.
Lower mixer speed and add eggs, one at a time. Continue to beat for 1 minute.
Alternate adding the flour mixture and buttermilk, ending with the flour.
Add vanilla or rum extract. Beat on medium-high speed for 20 seconds.
Pour batter into prepared pan, and bake for about 60 minutes, or until a wooden toothpick inserted into the center comes out clean.
To Make the Glaze: In a small saucepan, combine sugar, butter, water and vanilla or rum extract. Do not boil.
When the cake comes out of the oven, prick it with a wooden skewer or fork. Pour the glaze slowly over the cake.
Let the cake cool completely before removing it from the pan.
[ad name="space"]