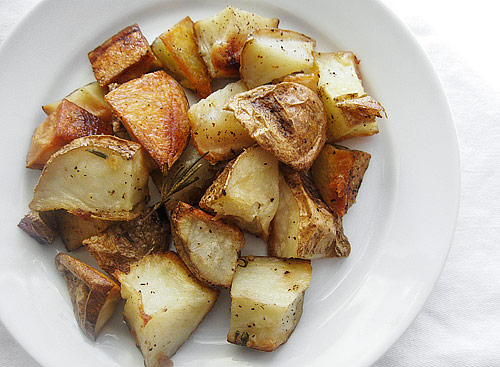 This afternoon, I was trying to run our freshly emptied garbage bin from the curb to the backyard, but then I heard The Neighbor shouting, "Girl, WHAT do you have AWN? It's COLD outside!"
I covered my eyes and looked up to see her. All bundled up in fur and flannel, looking like Zsa Zsa Gabor would if she'd just discovered Nirvana or Pearl Jam. I was dressed for my garbage run in a T-shirt and yoga pants. No need to go all "Nanook of the North" just to bring the trash in, right? But Zsa Zsa lectured me until my ovaries got frostbite and I sneezed icicles.
When I finally got back inside, I made some of these Crunchy Roasted Rosemary Potatoes. I know, everyone's experienced the miracle of taters, but I love that these get really crunchy. I love that with a little olive oil, Kosher salt, freshly ground pepper and rosemary, you've got a side dish tasty enough to crave the next day. And pick at while you're doing the dishes. And I love living in a county where they call off school because it's cold. Because that means my future frostbitten children will totally be valedictorians.
Crunchy Roasted Rosemary Potatoes

From Tyler Florence (Food Network)

Servings: 6 to 8

6 to 8 large Yukon gold potatoes cut into large chunks

4 sprigs fresh rosemary

Kosher salt and freshly ground black pepper

Extra-virgin olive oil

Preheat the oven to 375 degrees F.

Put the potatoes onto a baking sheet.
Roughly tear the rosemary and scatter it over the potatoes; season them with salt and pepper and drizzle with olive oil.
Toss the potatoes well to mix all the flavors and put them in the oven. Remove them after 30 minutes and toss them again.
Continue to roast them until they are browned and cooked through, about 30 to 40 minutes more. Serve immediately.
[ad name="space"]