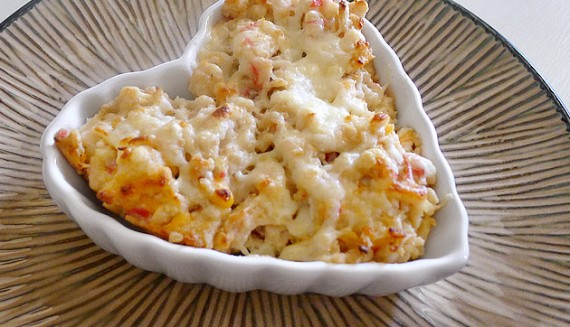 With the pizza, Buffalo chicken dip, and meatball sliders posted lately, you might think we were rooting for New York this weekend, but the truth is, we don't have a dog in this hunt. Not with the Saints and the Titans out. So, we wanted to even things up a little with a New England shout-out. My sister, Jennifer, suggested a Hot Crab Dip, so grab a Sam Adams and dig in. 
By Jennifer Rather.
I'm always on the lookout for party foods. When you add holidays, celebrating a birthday every other month and football season together, it equals a massive need for finger food.
We have our usual standbys (hello, sausage balls), but occasionally I like to try something different, just so everyone doesn't go into sausage overload.
In honor of the Super Bowl, and the years I spent in Boston, I decided to add Hot Crab Dip to our lineup.
This recipe couldn't be easier. You just stir everything together and bake it into this thick, cheesy, creamy pool of goodness, where the crab flavor punches through the Cheddar and garlicky cream cheese in the best possible way. It's one of those things you don't think you like at first bite, but then you need another. Uniquely addictive.
The hardest part of the recipe was finding crab in Tennessee. If you are lucky enough to have fresh seafood, use it. If you don't, use what you have – frozen, canned, imitation (if you have to) – just make sure it totals a pound.
I won't tell on you.
Now, come over and help me roll out these sausage balls.
Hot Crab Dip

Slightly adapted from Paula Deen ("Paula's Home Cooking" via Food Network)


Makes about 4 cups

1 (8-ounce) package cream cheese, softened
1 cup mayonnaise
1 cup grated Cheddar cheese, plus 3 tablespoons for topping
1/3 cup grated Parmesan
3 tablespoons Worcestershire sauce
1 tablespoon lemon juice
2 garlic cloves, minced
1 teaspoon hot pepper sauce
1/2 teaspoon dry mustard
1 pound crabmeat
Salt and pepper, to taste

Preheat the oven to 325 degrees F.
In a medium bowl, combine all of the ingredients (except the crab) until well blended.
Gently stir in the crabmeat.
Pour mixture into a 1-quart casserole dish.
Sprinkle 3 tablespoons grated Cheddar cheese on top.
Bake for 40 to 45 minutes. (To brown the cheese, broil for the last 5 minutes.) Serve with crackers or chips.

Gluten-Free Tip: Make sure to use a GF Worcestershire sauce.

Nutritional Information (per 1/4 cup serving) – calories: 206, fat: 19g, carbs: 1.6g, fiber: 0, protein: 8g, PP+ = 6
[ad name="space"]