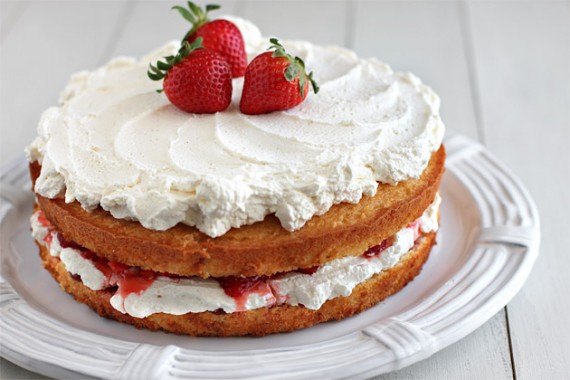 Here in Nashville, you'd swear it was spring. People are wearing short sleeves. Birds are singing. Buttercups are growing. It's like Mother Nature is having a midwinter hot flash, and we're too busy enjoying it to worry about how long it will last.
That's why I made this French-Style Strawberry Yogurt Cake with whipped cream and sugared strawberries.
When you've got something good, cake can only make it better.
Yogurt Cake, or Gâteau au Yaourt, is one of the first things French children learn how to bake, and it's one of the few desserts French people still choose to make at home (instead of picking up dessert at the pastry shop around the corner). That's because Yogurt Cake is simple, versatile and, most importantly, foolproof. French kids learn to use the yogurt jar to measure the ingredients, which are just pantry and refrigerator staples (like flour, sugar, yogurt and oil) that can be whisked together easily to make the batter.
The finished cake has a slightly tangy flavor (thanks to the yogurt), and its texture falls somewhere between a sponge cake and a pound cake, which makes it extremely versatile. You can eat it plain, but it really shines when you glaze it with marmalade or jam, or top it with lemon curd, chocolate sauce or whipped cream and fresh berries.
Since our grocery was having a sale on Plant City strawberries, I baked my cake in a round pan and turned it into a huge strawberry shortcake, splitting it in half and filling it with a thin layer of jam, whipped cream and strawberries. I love the way the cake soaks in the jam and the liquid from the berries but stays sturdy enough to slice and hold its shape. It's controlled strawberry-whipped cream chaos.
And I'm too busy enjoying it to worry about how long it will last.
Strawberry Yogurt Cake with Whipped Cream and Berries


If you'd like to make this cake in a loaf pan, follow the same directions, but bake it for 50 to 55 minutes.

Adapted from Dorie Greenspan's "Baking: From My Home to Yours"

Makes 8 servings

French Yogurt Cake:
1 1/2 cups all-purpose flour
2 teaspoons baking powder
Pinch of salt
1 cup sugar
Grated zest of 1 lemon
1/2 cup plain yogurt or Greek yogurt
3 large eggs
1/2 teaspoon pure vanilla extract
1/2 cup canola oil

Sugared Strawberries:
1 pound strawberries
2 tablespoons granulated sugar

Whipped Cream:
2 cups heavy cream
1/4 cup confectioner's sugar, sifted
Splash of vanilla

Strawberry jam, to taste
Garnish: whole strawberries, blueberries or raspberries

Preheat the oven to 350 degrees F. Grease a 9-inch round cake pan with butter or nonstick spray, and place the pan on a baking sheet.
In a medium bowl, whisk together the flour, baking powder and salt.
Put the sugar and lemon zest into a separate bowl, and rub them together with your fingertips until the sugar is moist and smells very lemony.
Add the yogurt, eggs and vanilla. Whisk until the mixture is completely blended and smooth.
As you whisk, add the dry ingredients.
Grab a spatula, and fold in the oil until you have a smooth, thick batter.
Pour the batter into your cake pan, and smooth the top.
Bake for about 35 minutes, until the cake begins to pull away from the sides of the pan.
Place the cake pan on a wire rack, and let it cool for 5 minutes, then run a knife between the cake and the pan. Take the cake out of the pan, and place it back on the rack (right side up) to cool to room temperature. (For the best flavor, wrap the cooled cake in plastic wrap and let it sit out overnight before moving on to the rest of the recipe.)
To Prep the Strawberries: Rinse the strawberries in a colander, and let them drain. Trim away the leafy tops, and quarter the berries. Place them in a bowl, and dust them with 2 tablespoons of sugar. Toss well. Refrigerate until ready to use.
To Make the Whipped Cream: Using a mixer, start beating the cream and sugar together at a low speed, gradually increasing the speed until the cream starts to thicken. Whip the cream until it forms soft peaks, and stir in the vanilla. Refrigerate until ready to use.
To Assemble the Cake: When the cake is cool, use a serrated knife to split the cake in half horizontally, like opening a big biscuit.
Spread the cut layer with strawberry jam, and cover it with about half of your sweetened whipped cream. Using a slotted spoon, spoon the sliced strawberries onto the whipped cream. (You can always add the leftover sweetened strawberry juice to homemade lemonade.)
Place the remaining cake layer on top of the berries, and cover the cake with the remaining whipped cream and whole strawberries.
[ad name="space"]