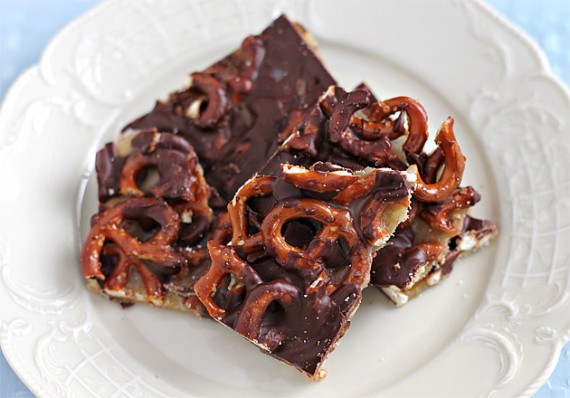 There are recipes you share, and there are recipes you help unleash on the world.
This one falls into the second category.
The first time I read about Salted Chocolate Pretzel Toffee, it was about 4 a.m. I'd woken up coughing and couldn't get back to sleep, so I propped myself up, grabbed my laptop and planned to just read until I got drowsy. But then I found Shannan Martin's blog, Flower Patch Farmgirl, and got lost in her world for hours. And while I was there, I learned about this toffee, only she called it by another name, using the two words that would light my way back to the Land of the Living: Crack Bark.
It couldn't be more addictive.
Cover a rimmed jelly roll pan in mini pretzels. Grab a saucepan, and combine two sticks of butter and a cup of light brown sugar. Let the mixture bubble for about three minutes, and pour it over the pretzels. Pop the pan in the oven for five minutes, and sprinkle a bag of chocolate chips on top. Wait for two minutes, and use a spatula to spread the melted chocolate over the toffee. Then sprinkle the whole thing with sea salt.
Holy goodness.
At first bite, you think, "This stuff is pretty good," and then you come to with a line of melted chocolate under your nose and half the pan missing.
I don't even want to think about how good it is crumbled over ice cream, because IT'S THAT GOOD.
Good enough to make me want more right now.
Scary good.
It's got that sweet-and-salty thing. That crunchy-chewy thing. That "toffee without a candy thermometer" thing.
Finding this recipe? Totally worth losing a few hours of sleep. Thanks, Shannan!
Go forth and unleash it on the people you love.
Salted Chocolate Pretzel Toffee (aka Crack Bark)


Adapted from Legume Loyalist and Flower Patch Farmgirl


Mini pretzels, broken into smaller pieces (as many as it takes to cover your pan)
1 cup (2 sticks) unsalted butter
1 cup light brown sugar
2 cups (one 12-ounce bag) chocolate chips
Sea salt

Preheat the oven to 375 degrees F. Line an 11″ x 17″ jelly roll pan with aluminum foil or parchment paper. Set aside.
Cover the pan in a layer of broken mini pretzels.
In a small saucepan over medium heat, combine the butter and brown sugar. When the mixture starts to gently simmer and bubble, let it cook that way for 3 minutes. (Don't stir.)
Pour the butter and sugar mixture over the pretzels.
Bake for 5 minutes.
Place the pan on a cooling rack, and immediately sprinkle chocolate chips evenly over the top. Wait for about 2 minutes, until the chocolate melts. Grab a spatula, and spread the chocolate over the toffee. Sprinkle with sea salt.
Let the toffee cool completely, and break it into pieces. (To speed up the cooling process, you can place the pan of toffee in the refrigerator or freezer.)
[ad name="space"]