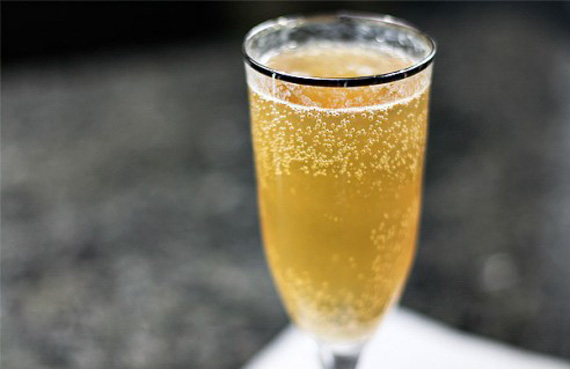 A "French 75" is a Champagne cocktail named for the French 75mm howitzer artillery gun used during World War I. The legend is that the drink was created by a fighter pilot who wanted his Champagne to pack a little more punch. So he added gin. (Or Cognac, depending on who you ask.)
The drink caught on with Americans living in Paris at the time, like F. Scott Fitzgerald and Ernest Hemingway. And they knew their drinks.
It has history.
You just can't say that for Mad Dog 20/20 Blue Raspberry. The colder this cocktail is, the better it tastes, so shake the lemon juice, sugar and gin (or Cognac) in a shaker full of ice, strain it into a cold glass, and top it off with chilled Champagne.
It's bright and bubbly and tangy and lemony and … POTENT.
Looking for other things to make and do this New Year's Eve?
Happy New Year!
French 75

Makes 1 cocktail

2 ounces (4 tablespoons) gin or Cognac
1/2 to 1 ounce (1 to 2 tablespoons) fresh lemon juice
1 teaspoon sugar (You might need more if you use Cognac.)
Brut Champagne or sparkling white wine, chilled

Fill a cocktail shaker with ice, and add the gin, lemon juice and sugar.
Shake and strain into a chilled Champagne flute or a highball glass full of cracked ice.
Top off with chilled Champagne.
[ad name="space"]