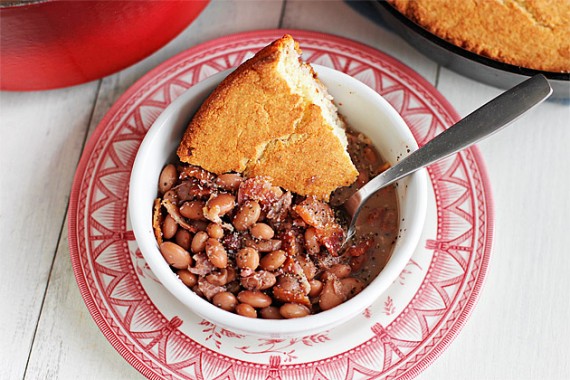 Aren't you ready for 2012?
I am.
The last week of a year always feels like a cosmic toilet that needs to be flushed. It's the week when I remember that I forgot to lose weight (HOW do you lose weight in a world full of hashbrown casserole?) and stop saying "sucks" in front of my nieces and nephews, and I have 586 messages in my Inbox.
OK, 587.
So many good things have happened this year, but my Inner Lady Nerd lusts for a new calendar. A fresh start. A clean slate. A big blank canvas just primed for possibilities.
You know. A clean cosmic toilet.
Here at the Continental Crump House, we'll be kicking things off with beans, greens (some Good Luck Collard Green Dip) and cornbread. Black-eyed peas get the most attention around New Year's, but the idea is that eating any round bean or pea on New Year's Day is like symbolically filling yourself up with round coins. So, if you'd rather have lentils, white beans or pintos, serve 'em up and get greedy.
Lately I've been craving soup beans. Not bean soup. Soup beans are made by slow-cooking dried beans with a ham hock in a big pot full of water until they get tender and creamy. Then you season them, add bacon (if you want), and shred the meat off the ham hock to add back to your soup.
It's country good. So satisfying, especially on a cold, rainy night.
As for the cornbread, you can crumble it into your soup or serve it on the side. Preferably with butter.
And then get a workout in.
Next year, I'm NOT going to forget.
But my Inbox? That needs a flushing.
Soup Beans and Skillet Cornbread


Adapted from Faye Porter's "At My Grandmother's Knee"

Makes 6 to 8 servings

1 package (1 pound) dried pinto beans
1/2 teaspoon salt, divided
1 smoked ham hock
5 1/2 cups water
1/2 teaspoon black pepper
4 slices hickory-smoked bacon
Skillet Cornbread (recipe below)

Soak the beans overnight in water (enough to cover them by 3 inches) and 1/4 teaspoon salt.
The next day, drain the beans, and rinse with cold water.
Place the beans and ham hock in a large pot, and cover with 5 1/2 cups water. Bring to a low boil, stir, and reduce the heat to low. Cover the pot, and cook for about 2 hours, stirring frequently. (Make sure the beans stay covered with water.)
While the beans are cooking, add the remaining 1/4 teaspoon salt and the 1/2 teaspoon pepper.
In the meantime, fry the bacon, and save the drippings. Add the bacon and the drippings to the soup. (You don't have to add all the drippings. Your choice.)
Cook the soup for an additional 60 minutes over low heat, stirring frequently.
Remove the ham hock from the soup. Discard the skin and bones. Shred the remaining meat, and add it back to the soup.
When ready to eat, ladle the soup into individual bowls. Crumble a slice of hot cornbread into each bowl, mix, and serve.
Skillet Cornbread

Adapted from Faye Porter's "At My Grandmother's Knee"

Makes 6 to 8 servings

3 tablespoons bacon grease (rendered from frying 6 slices thick bacon, cut into small pieces) OR 3 tablespoons unsalted butter
2 cups white self-rising cornmeal
2 tablespoons all-purpose flour
1 large egg, lightly beaten
2 cups buttermilk

Preheat the oven to 450 degrees F.
Grease your cast-iron skillet with 1 tablespoon bacon grease or 1 tablespoon melted butter.
Place the greased skillet in the oven for about 5 minutes.
Meanwhile, combine the cornmeal, flour, egg, and buttermilk together in a large bowl. Add 2 tablespoons of your reserved bacon grease or 2 tablespoons melted butter.
Pour the batter into your greased hot skillet. Bake for 20 to 30 minutes, until the cornbread starts pulling away from the sides of the skillet.
Remove cornbread from the oven, turn it out onto a plate, and slice immediately.
[ad name="space"]