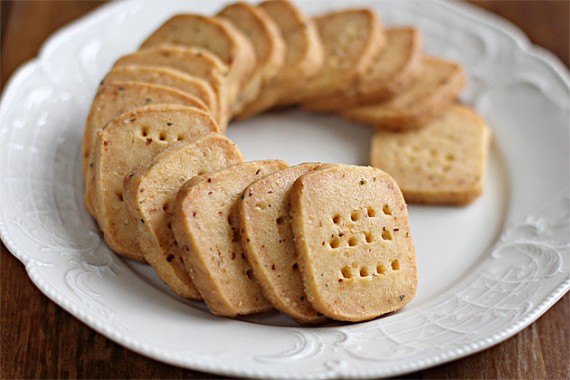 Now that NASA doesn't have the space program to worry about, I hope they'll start studying the gravitational pull of cheese balls. And dips. And little fried things.
You know, holiday party foods.
I've seen what passes for meatless party food on other sites, and if those were my only options, I'd stay home. I'm not shaving my legs for lettuce leaves blopped with cream cheese. Or lentil pate.
What's wrong with Rosemary Cheese Crackers? Or Beer Bread with crunchy veggie cream cheese? Or Portobello Sliders with pesto, provolone and roasted red peppers? Why not make things that are meatless but would tempt anyone with taste buds and a stomach?Here are my Top 30 Vegetarian Party Foods, including one new one: Sara Foster's Rosemary Cheese Crackers (no. 1 below). These are foods so crazy-delicious, you might think twice about sharing them. But you will. Because that's how your Mama raised you.
Just don't take too big a hunk out of my cheese ball.
1. Rosemary Cheese Crackers (pictured above). These buttery crackers have an addictive red pepper kick. Serve them alone or with a little goat cheese and red pepper jelly. And a nice big cocktail.
2. Beer Bread. This bread is delicious alone, but you can take it to the bridge with honey butter or some crunchy veggie cream cheese.
3. Black-Eyed Pea Cakes. Just leave out the bacon, and enjoy the combination of peas, onion and chopped red and green bell peppers, seasoned with parsley, basil and cayenne and coated with panko before frying. Fresh and flavorful, with a little kick.
4. Brie en Croute with Brown Sugar, Bourbon and Pecans. Soft Brie cheese swaddled in a sheet of puff pastry and baked until the pastry is golden brown and the cheese inside is like molten cheese lava (arguably the best type of lava, with the possible exception of chocolate).
5. Broccoli Corn Muffins. Surprisingly light and cakey. They'd be especially great with shooters of warm red pepper and tomato soup.
6. Bruschetta with Basil, Tomato and Pecorino. Thin baguette slices brushed with olive oil, toasted, topped with a tomato-basil mixture and toasted a second time, just until the whisper-thin pecorino melts. Don't worry that the tomatoes aren't at their peak. They'll be so drunk with red wine vinegar, salt, pepper and sugar that they'll have plenty of flavor.
7. Cheese Plate. Here are some tips for putting together a dangerously respectable platter, with an assortment of cheeses, fruit, nuts and crackers.
8. Cheese Straws. Imagine a very long, thin Cheez-It, and you'll start to get the power of a good cheese straw. Make the dough in your food processor, slice it with a pizza cutter, and – voila! – cheese straws.
9. Chive Risotto Cakes. The crunchy panko crust gives way to a creamy, tangy interior of Fontina cheese, Greek yogurt, chives and softened rice. If the scent doesn't lure you in, that first bite will.
10. Coconut-Sweet Potato Bisque Shooters. A sweet-and-spicy soup made with sweet potatoes simmered in coconut milk with brown sugar, maple syrup, pumpkin pie spice, salt, pepper and cayenne. Unbelievably smooth and creamy.
11. Collard Green Good Luck Dip. A warm, creamy dip, fully loaded with a pound of collards, plus onion, red bell pepper and garlic. Skip the bacon, or use a vegetarian alternative.
12. Cranberry-Orange Bread with Grand Marnier Glaze. Sweet and moist, singing with orange sunshine and sweet-tart cranberries. More like a pound cake than a quick bread.
13. Deviled Eggs. Dress them for the holidays with paprika and chives on top.
14. Focaccia with Caramelized Onions, Goat Cheese and Rosemary. I add Roma tomatoes and Kalamata olives, but you could make the same dough and add sliced pears, Gorgonzola and walnuts. Go crazy!
15. Greek Panzanella on a Stick. To get this panzanella party-ready, thread the bread, cucumber, peppers, cherry tomatoes, onion, olives and feta onto skewers, and drizzle on the dressing.
16. Guacamole with Roasted Garlic, Poblano and Red Pepper. Hey, it's red and green. Why wait until summer?
17. Pan-Fried Onion Dip. Caramelized onions folded into a mixture of cream cheese, sour cream and mayonnaise. If you've ever inhaled an embarrassingly significant portion of Lipton® Onion Dip, you will love this stuff.
18. Pecan Sour Cream Biscuits. Sweet from the brown sugar, tangy from the sour cream, crunchy from the toasted pecans, these things are pretty addictive.
19. Pimento Cheese. Who'd have thought pimento cheese would be trendy this year? Make this spread, and serve it with crackers, toast points, pita chips, or small squares of toasted day-old cornbread.
20. Portobello, Broccoli and Red Pepper Melts. Broiled vegetables piled onto thick slices of country bread and toasted until the cheese on top melts and bubbles. So good.
21. Portobello Sliders with Pesto, Provolone and Roasted Red Peppers. Use baby bellas and dinner rolls instead of hamburger buns.
22. Provencal Tomato, Olive and Goat Cheese Galette. This pie pastry is impossibly flaky, so when you cut into it with your fork, it shatters, and all of the toppings that were barely contained anyway just start tumbling down into this beautiful mess of buttery crust and bright flavors. You could easily divide the dough to make mini pies.
23. Pumpkin Bread with Pecan Streusel. A bread that is so on the verge of being cake. Moist, dense, barely hanging together.
24. Roasted Tomato Hand Pies with Black Olives and Feta. Just cut squares out of pie dough, drape them into muffin cups, fill them, and bake. Try zucchini, corn and pepper jack. Or mushrooms, roasted red pepper and caramelized onions.
25. Savory Palmiers. That's palm-YAYZ! Pesto, goat cheese, sundried-tomatoes and toasted pine nuts rolled inside puff pastry, sliced and baked. Let people think they took you all day.
26. Seven Layer Dip. Black beans, sour cream (or Greek yogurt), chunky guacamole, fresh salsa, scallions, cheese and cilantro. It's like a bean burrito in a bowl. And by that, I mean it's like Heaven.
27. Spiced Pecans. When you first pop them into your mouth, you only taste the sugar, cinnamon, nutmeg and ginger. But then the heat kicks you right in the back of the throat, like Chuck Norris. Great cocktail snack.
28. Spinach in Puff Pastry. Spinach, scallions, cheese, bread crumbs and toasted pine nuts swaddled in buttery puff pastry. So much easier than it looks.
29. Tomato and Goat Cheese Tarts. Just defrost sheets of puff pastry, cut them into circles, and pile them with Parmesan, sautéed onions, goat cheese, tomato and basil. Lovely and delicious.
30. Veggie Sandwich with Vinaigrette. Make this 20-inch veggie sub, and slice it into smaller portions. Healthy, filling and delicious. For a more festive look, layer the sandwich with pesto, provolone or mozzarella, and sliced tomatoes or red bell pepper.
Rosemary Cheese Crackers

Serve plain or with goat cheese, red pepper jelly and a round of Sazeracs or Bloody Marys.

Adapted from Sara Foster's "Sara Foster's Southern Kitchen"

Makes about 2 1/2 dozen 2-inch square or round crackers

2 cups (8 ounces) grated sharp Cheddar cheese
8 tablespoons (1 stick) unsalted butter, softened
1 1/2 cups all-purpose flour
2 teaspoons dried rosemary (or 4 teaspoons fresh rosemary)
1 teaspoon sea salt, plus more for sprinkling on top
1 teaspoon crushed red pepper flakes
1/4 teaspoon ground cayenne pepper

Using an electric mixer or a wooden spoon, cream the cheese and butter until smooth and well combined.
In a separate bowl, stir together the flour, rosemary, salt, red pepper flakes, and cayenne.
Add the flour mixture to the cheese mixture, and stir to combine thoroughly. (If it still seems dry, feel free to throw the dough into your food processor, and pulse until it comes together.)
Turn the dough onto a piece of wax or parchment paper. Roll it into a log shape for round crackers; for square crackers, gently tap each side of the log on the counter several times to form a long rectangle.
Wrap the dough in the paper, and refrigerate for several hours or overnight.
When ready to bake, preheat the oven to 375 degrees F.
Take the dough out of the fridge, and cut the log into 1/4-inch-thick slices. Arrange the slices on a baking sheet.
Using a fork, prick the center of each cracker several times, and sprinkle with salt.
Bake for 12 to 15 minutes, until golden brown around the edges.
Remove from the oven, and allow to cool completely before serving or storing. (You can store these in an airtight container for up to 3 days.)

Note: The dough for these crackers can be made a day or two in advance and refrigerated until you're ready to bake and serve. Once baked, the crackers can be frozen and then reheated in the oven for a few minutes before serving.

Nutritional Info (Per Cracker) – calories: 81, fat: 5.6, carbs: 4.9, fiber: 0.2, protein: 2.6, PP+ = 2
[ad name="space"]