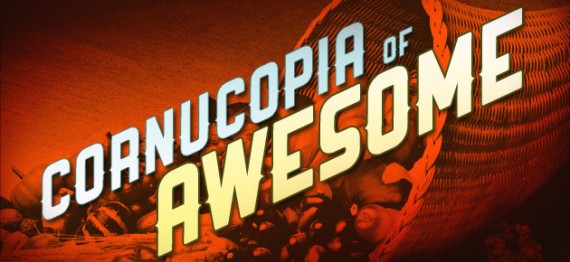 Here are some links to check out during the long holiday weekend:
– "Home for the Holidays" Thanksgiving prayer (NOT for the easily offended!): Every time I see this movie, I text my sister that she's a "product of baboon lovin." And she knows how much I care.
– Weren't you looking for a Christmas tree headband? Or this sexy reindeer hat? Or an Elf Sweater? My eyes!
– Turkey Causes Reporter to Lose Her Head: "Oh my God, there he is! He's waiting for me to get out of this car!" Maybe we should rethink this whole turkey-pardoning thing.
– Serious Eats attempts an All-Pie Thanksgiving Fantasy, complete with Green Bean Casserole Pie.
– Want to Eat Like the Pilgrims? (Hint: Hell no.)
– From Real Simple, "What's Your Most Memorable Holiday Mishap?" These are epic.
– Rick Bragg's "The Impossible Turkey": "I told my mama her turkey was beautiful, because it was, and always will be. I told her not to give those tarted-up show turkeys another thought."
– 14 Thanksgiving Holiday Road Trip Reads. Kindle powers, activate!
– From Slate, "20 Guests, 19 Pies":
"My mother, a retired English professor, is a doting grandmother, a brilliant scholar, and a great wit. She is thrifty in her tastes—I can't remember the last thing she bought for herself—and small of appetite. But in this one way she is extravagance itself. Her Thanksgiving pie spectacle—enough pie to feed 80 or 100 guests—is excessive, bizarre, and sometimes even grotesque … Yet it has also become the only holiday tradition that anyone in our family cares about."
– Now, THIS is a grocery Thanksgiving display.
– Will the Macy's Thanksgiving Day Parade ever top getting Rick-Rolled by Rick Astley? I don't think so.
– Sandra Lee Makes Kwanzaa Cake. Sometimes I forget this happened. And then I remember. And I have to watch AGAIN.
– Baby Dancing to Mom's Banjo-Playing. Commence the jiggin'!
– PBS Food posted a Q&A with me! If you want to read me rambling about myself, follow this link!
Happy Thanksgiving!
[ad name="space"]