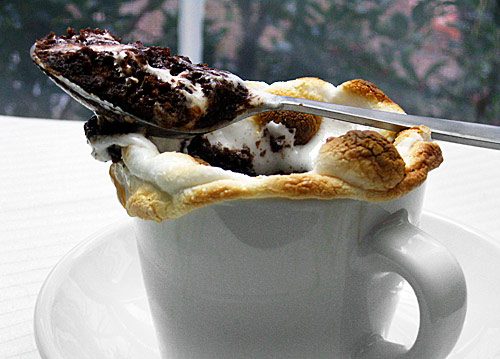 A few weeks ago, Jeff read me a list of things people had searched for here. Pound cake. Pot pie. Corn casserole. Chocolate pudding cake.
I hadn't posted a chocolate pudding cake! Well, that made chocolate pudding cake Unfinished Business, which I am compelled to Finish before the New Year. Just wait until you see how long I stay up trying to clear out my Inbox. I forget to blink.
This is my all-time favorite Hot Fudge Pudding Cake. The one I make when it snows or when my PMS (aka the Raging Pink Hulk) makes me crave an intense chocolate punch in the face.
Most chocolate pudding cake recipes involve a cake mixture that resembles brownie batter, a sprinkling of cocoa powder and sugar, and boiling water. The ingredients aren't stirred, so some parts are cakey, and others form pockets of chocolate sauce. Pure edible magic, no Kitchen-Aid required.
This Hot Fudge Pudding Cake, developed by "Cook's Country,"
has even more chocolate flavor than others, because the recipe contains double the cocoa powder in the batter and a handful of chocolate chips. It also skips the vegetable oil in favor of four tablespoons of melted, golden, delicious butter.
The end result is a messy, gooey, scrumptious cake that you couldn't slice if your life depended on it. I like to just scoop it into bowls or mugs and top it with ice cream or whipped cream. Very "rustic." But if you'd like to take this cake uptown, try baking it in eight 6-ounce ramekins or coffee cups. Each cup will get two tablespoons of batter, 1 1/2 tablespoons of cocoa mixture and two tablespoons of boiling water. Bake the cakes for 20 to 25 minutes, until the tops are cracked. And save one for the Raging Pink Hulk.
Hot Fudge Pudding Cake

From Stephanie Alleyne for "Cook's Country"

Serves 6-8

1 cup sugar
1/2 cup Dutch-processed cocoa powder
1 cup all-purpose flour
2 teaspoons baking powder
1/4 teaspoon salt
1/2 cup milk
4 tablespoons (1/2 stick) unsalted butter, melted
1 large egg yolk
2 teaspoons vanilla extract
1/2 cup semisweet chocolate chips
1 cup boiling water
Vanilla ice cream or whipped cream

Adjust oven rack to middle position and heat oven to 350 degrees. Spray 8-inch square glass or metal cake pan with cooking spray. Whisk 1/2 cup sugar with 1/4 cup cocoa in small bowl.
Whisk flour, remaining 1/2 cup sugar, remaining 1/4 cup cocoa, baking powder, and salt in a large bowl. Whisk milk, butter, egg yolk, and vanilla in medium bowl until smooth. Stir milk mixture into flour mixture until just combined. Fold in chocolate chips.
Using rubber spatula, scrape batter into prepared pan and spread into corners. Sprinkle reserved cocoa mixture evenly over top. Gently pour boiling water over cocoa. Do not stir.
Bake until top of cake looks cracked, sauce is bubbling, and toothpick inserted into cakey areas comes out with moist crumbs attached, about 25 minutes. Cool on rack for at least 10 minutes. To serve, scoop warm cake into individual serving bowls and top with vanilla ice cream or whipped cream.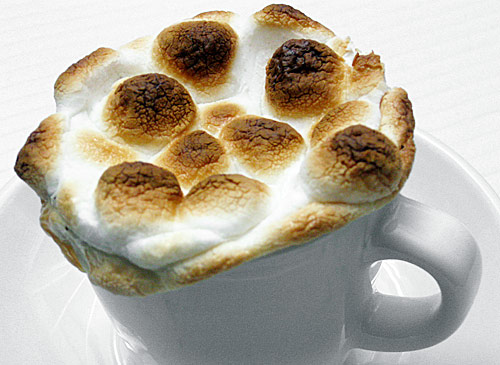 [ad name="space"]