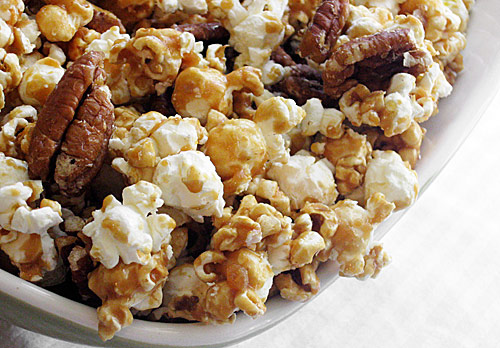 I can't wrap.
Either I'm an inch short on paper, or the ends won't fold up to make that nice little triangle. My gift bags look like they were stuffed by Mrs. Kelley's third-grade class. And every year, no matter how much paper I buy, I wind up with one gift that has to be wrapped in a garbage bag. (Note to self: Invent festive, peppermint-scented garbage bags.)
But I love the process.
Jeff and I drag all the wrapping supplies into living room, turn on a movie (Christmas or otherwise), make some snacks and start the extravaganza.
My new favorite wrapping snack is Mom's Caramel Corn with Nuts. It's also my favorite movie snack. My favorite post-breakfast snack. And one of my favorite party foods. You can make enough for every man, woman and child in the Target parking lot without breaking the bank, and it's so sweet-and-salty, yummy, crunchy good.
It's also dead simple.
Fill a huge aluminum roasting pan with freshly popped popcorn and nuts. Make the caramel. Pour it over the popcorn and nuts. Then bake it for an hour, stirring every 15 minutes. The popcorn will keep in an airtight container for about a week, so it would make a great gift.
Just don't ask me how to wrap it.
Mom's Caramel Corn with Pecans

Rebecca Crump (EzraPoundCake.com)


Makes about 24 cups

6 quarts popcorn, freshly popped (That's about 24 cups of popcorn. You can air-pop it or use 2 (3.5 ounce) bags of plain microwave popcorn.)


2-3 cups pecans

1 cup butter


2 cups (packed) brown sugar

1/2 cup Karo syrup

1 teaspoon salt

1/2 teaspoon baking soda


1 teaspoon vanilla extract

Preheat oven to 250 degrees F. Mix warm popcorn and nuts in a large aluminum roasting pan. Set aside.

In a medium saucepan, melt butter over medium heat. Add brown sugar, Karo and salt. Whisk until sugar dissolves.

Increase heat to high and boil without stirring for about 5 minutes (or until a candy thermometer registers 255 degrees F).
Remove from heat. Stir in baking soda and vanilla.
Pour syrup over popcorn and nuts. Combine with rubber spatula.
Bake for 1 hour, stirring every 15 minutes.
[ad name="space"]