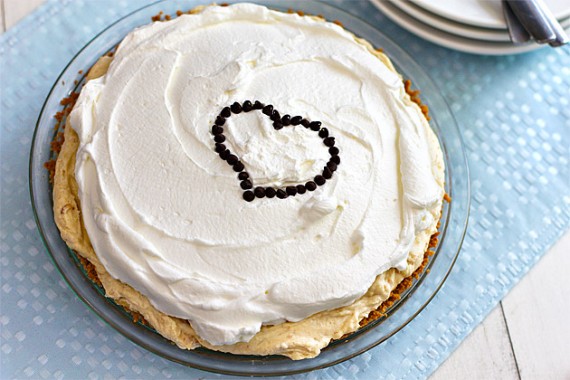 Before we got married, Jeff would drive an hour to visit me one weekend, and I'd drive an hour to see him the next.
On the weekends he visited me, he'd stop by the bakery where I worked, and I'd have that morning's best cinnamon roll on a plate waiting for him. The next weekend, I'd drive to Nashville with his cinnamon roll boxed up next to me.
I couldn't tell you the last time I made him a batch. I've been planning to get around to it.
When the weather got cooler.
Maybe for his birthday.
Then I read Jennifer Perillo's blog about losing her husband Mikey.
The entire post is heartbreaking – she mentions his wedding ring on a chain around her neck and how they spent their last date walking hand-in-hand outside on a 102-degree afternoon – but I lost it when she said she didn't know how long it had been since she'd made him a peanut butter cream pie.
His favorite.
It was on her to-do list.
Which was way too familiar.
Too close to home.
At the end of the post, Jennifer asked that everyone celebrate Mikey's life today by making a peanut butter pie and sharing it with someone they love.
No matter when you're reading this, it's not too late.
Make a peanut butter pie today for Mikey and Jennifer.
And make that certain something for someone you love. No matter if it's fattening, ridiculous, a pain – or all three! – don't put it off. It feels like we have all the time in the world to show people how much we love them, but the truth is that we only see the sand pouring into the bottom of the hourglass. We have no idea how much is left at the top.
Today, I made a Peanut Butter Love Pie for Mikey.
Tomorrow, I'm making cinnamon rolls for Jeff.
Some things just can't wait.
Peanut Butter Love Pie

Rebecca Crump (EzraPoundCake.com)

1 Graham Cracker Crust, recipe below
2 1/2 cups heavy cream
1/4 cup sugar
8 ounces cream cheese, softened (microwave for 15 seconds)
1 cup peanut butter (smooth or crunchy)
1 cup confectioners' sugar, sifted
1 teaspoon vanilla extract
Garnish (optional): your choice of mini chocolate chips, chopped roasted peanuts, chopped Reese's peanut butter cups or chopped Butterfinger candy bar

Pour the cream into the bowl of a stand mixer, and add the sugar. Whip on low speed to combine, and then increase the speed to medium-high. Whip until medium-stiff peaks form, about 1 1/2 minutes. Chill in the refrigerator until needed.
Using the same mixing bowl (no need to clean it), beat the cream cheese until smooth. Add the confectioners' sugar, peanut butter, and vanilla, and beat until smooth, stopping the mixer to scrape down the bowl once or twice.
Measure about 2 1/2 cups of whipped cream from the bowl in the refrigerator, and fold it into the peanut butter mixture until well blended.
Pour the mixture into your graham cracker crust. Top with the remaining chilled whipped cream, and chill the pie for at least 1 to 2 hours before serving.
Serve pie topped with your garnish of choice, if using. Otherwise, dig in!
Graham Cracker Crust

Makes one 9-inch crust

1 3/4 cups graham cracker crumbs (ground fine from 12 large graham crackers)
1/4 cup light brown sugar
Pinch of salt
6 tablespoons unsalted butter, melted

Preheat the oven to 350 degrees F. Lightly butter your pie plate, and set aside.
In a small bowl, stir together the graham cracker crumbs, brown sugar and salt.
Add the melted butter and mix thoroughly, first with a fork and then with your fingers. (If the mixture seems too sandy, wet your fingertips under running water, and keep mixing.)
Press the mixture evenly into the bottom and up the sides of your pie plate.
Bake for 8 minutes.
Cool the crust on a wire rack for at least 30 minutes before filling.
[ad name="space"]