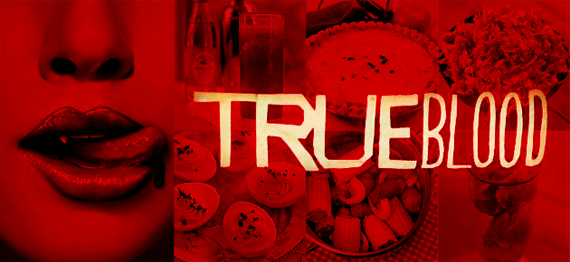 I have a confession.
When most of you voted for us to tackle a True Blood
menu this month (Harry Potter in July), I had never seen a single episode. I'd assumed it was just another supernatural show cashing in on the Twilight hype. But, I thought, if you guys like it this much, I should catch an episode or two.
Less than two weeks later, I've seen 24 episodes. The entire first two seasons.
Yes, it's that good. It's addictive.
If you've never watched, True Blood
is a dark comedy based on Charlaine Harris' Sookie Stackhouse novels. The show is about how the human residents in the fictional town of Bon Temps, Louisiana, deal with its vampire residents, who have recently come "out of the coffin" thanks to the invention of Tru Blood, a synthetic blood beverage.
But it's also about Sookie, a telepathic waitress having her first real relationship with Bill Compton, a 173-year-old vampire.
Most of the characters are hungry for love or acceptance or just … hungry – which brings me to our menu!
To celebrate the return of Sookie, Bill, the entire Merlotte's gang and (especially) vampire Eric, we put together this menu inspired by the characters and foods featured on the show.
Dig in!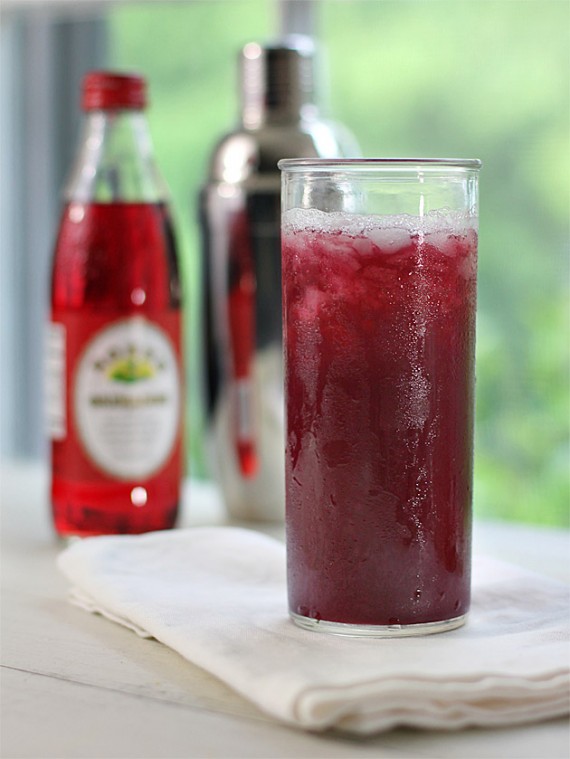 Vampire Bill's Plantation Libation

"We vampires are always in some kind of trouble. I'd prefer to be in it with you."–Bill Compton
Right now, the only drinks available at Bill's dilapidated plantation house are Tru Blood (for vampires) and Fresca (for humans), but I like to think that someday he'll restock the bar and offer something more interesting, like this take on the Vampire's Dream cocktail.
Other good drink options: sweet tea, Firefly Sweet Tea Vodka, Fresca, beer, Tru Blood, gin and tonic … A lot of the action takes place at two bars, Merlotte's and Fangtasia, so you can serve just about any drink you want.
*Transform your bottles by clicking here to download printable versions of the Tru Blood labels.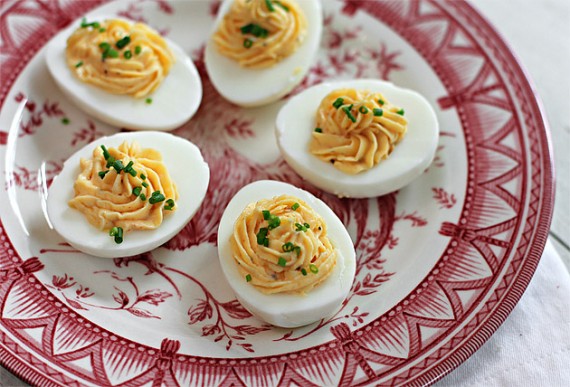 "I finally found a strong, beautiful man who loves me, and y'all wanna keep me from rescuing him because you're afraid I might get hurt? How hurt do you think I'm gonna be if we wait and something happens to him!"–Tara Thornton
Yes, I went there. A plate of deviled eggs in honor of Tara's hard-earned boyfriend, the unfortunately named Eggs, who was possessed and did a lot of bad, bad things. But he looked good doing them, and that goes a long way on this show.
Other good appetizer options: Maxine Fortenberry's Cheese Straws or Lafayette's Pan-Fried Onion Dip and Cape Cod chips (the best chips in the world, according to Maryann Forrester)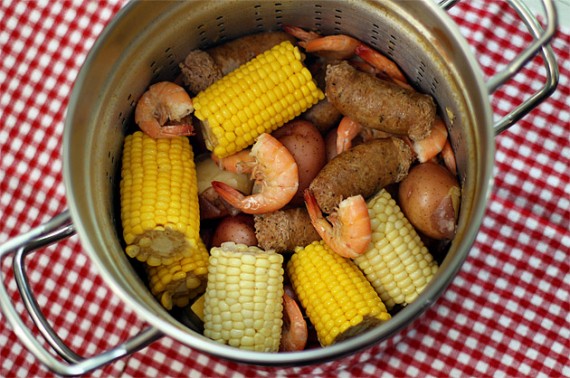 "I know I've done it four other times, but it never gets old."–Arlene Fowler, on getting married
I know, the obvious choice for a True Blood menu main course is a plate full of Lafayette's AIDS burgers, dressed with lettuce, tomato and a whole lotta swagger. But we fell in love with the idea of a Cajun shrimp boil after seeing the one Sam Merlotte throws to celebrate Arlene and Rene's engagement in season one.
A one-pot main course that's meant to be poured out on the table and eaten with your bare hands? If that doesn't get you in the mood for True Blood, nothing can.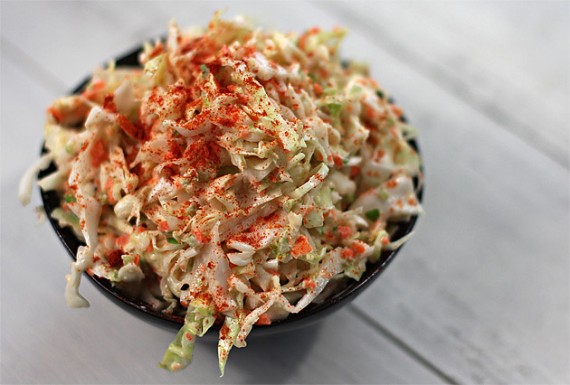 Sookie's Crazy Mixed-Up Coleslaw

"My heart's flying around in my chest – I can't even think straight. My life's inside out. With all that's happened I'm not sure about anything. I don't even know if I'm human!"–Sookie Stackhouse
A crazy mixed-up coleslaw for a crazy mixed-up lady. What sets it apart is that the cabbage is half-sliced, half-shredded, which makes the texture a lot more interesting.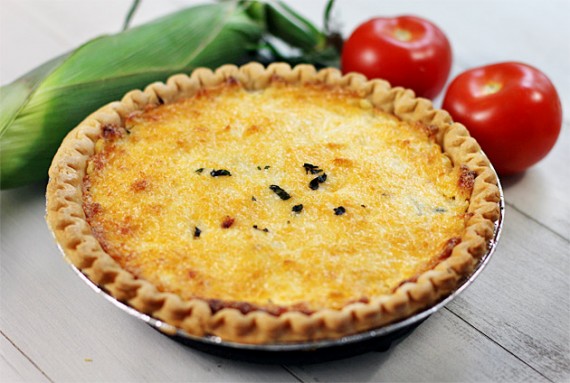 "We need to be out of control. We crave it."–Maryann Forrester
This tomato pie doesn't include any of Maryann's secret ingredients, but when Jeff and I tried it for the first time, we looked like Eggs and Tara taking bite after bite of Maryann's Hunter Souffle.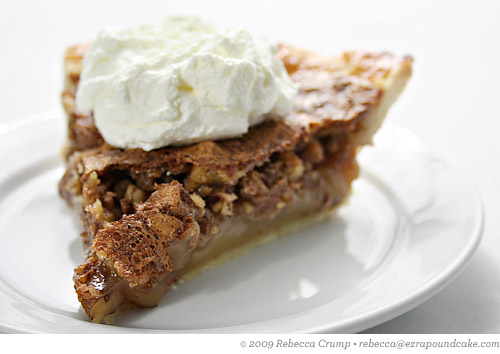 "It is scary openin' your heart up to somebody."–Adele Stackhouse
Aw, Gran.
When Sookie sits down with Gran's pie, it looks an awful lot like a prebaked crust filled with pudding and topped with pecan halves.
Doesn't Gran deserve better?
THIS is a Southern Comfort pecan pie based on the one served at Brigtsen's in New Orleans. It has ground pecans toasted in butter and cinnamon and a caramel-like mixture of dark and light corn syrups.
It's the pie Gran deserves.
Now, say it with me Sookie-style: THAT'S GRAN'S PIE!!!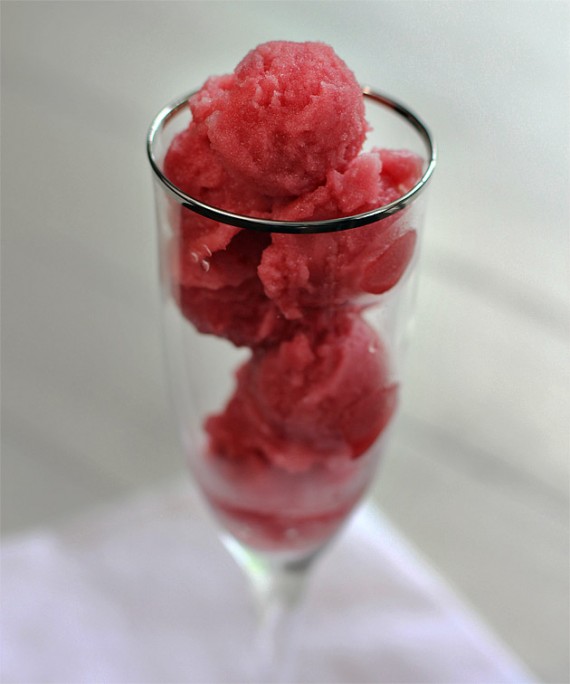 Blood Gelato (To Be Posted)

"I'm bored. Take off your clothes."–Talbot
No True Blood meal would be complete without some tribute to Talbot's vampire dinner party menu of cruelty-free carbonated fresh blood, warm blood bisque with rose petal infusion and, yes, blood gelato.
This is actually a blood orange sorbet with only three ingredients: blood orange juice, sugar and lemon juice. Cold and refreshing, with lots of bite. Remind you of anyone?
Other good dessert options: Sarah Newlin's Banana Pudding, Homemade Vanilla Ice Cream with Hot Fudge Sauce (like Arlene's kids ate while Bill and Sookie were babysitting), Ponchatoula Strawberry and Brown Butter Shortcake and Cherry Fried Pies
P.S. Season four of True Blood premieres Sunday, June 26, on HBO. Catch up on all three past seasons in five minutes with this handy-dandy video.
[ad name="space"]