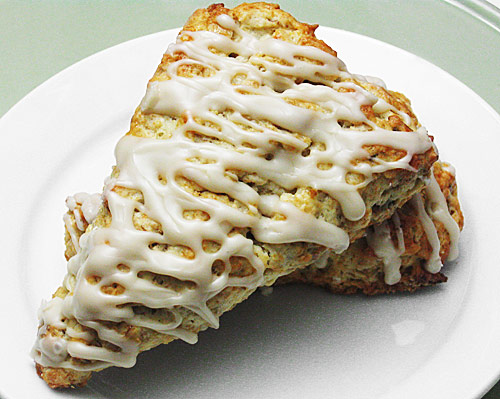 A few years ago, I flew from Nashville to visit my sister in Cambridge. It was a few days after Christmas, very cold, and we ducked into this quaint little corner coffeehouse – I think it was called "Starbucks" – for breakfast. That's where I had my first oatmeal scone.
My second, third and fourth scones were not so good, and that's when I learned that oatmeal scones have issues. At their worst, they can be gritty, heavy, dry, jaw-breaking, bricklike and hockey-puckesque. Nothing you would crave on a cold, wet morning.
But Maple and Pecan Oatmeal Scones are something else entirely. Leave it to "Cook's Illustrated"
to come up with the perfect oatmeal scone-saving strategy: toast the oatmeal (for real oatmeal flavor); add whole milk, heavy cream and butter (for moistness); and bake the scones at a high temperature – 450 degrees F – to make the cold butter release steam (for a lighter, taller scone).
Every time I bake these, I remember that breakfast with Jennifer. She was showing me the long, icy, daily walk from her apartment to school. We stopped because I couldn't feel my toes, and she ordered my breakfast while I shook the ice out of my boots. Peppermint cocoa and oatmeal scones. The guy at the counter thought she was my older sister. She looked so happy and self-assured. And I looked younger and hotter.
Scones … they taste like victory.
Maple and Pecan Oatmeal Scones

Adapted from "Baking Illustrated" by the Editors of "Cook's Illustrated"

Makes 8

1 1/2 cups (4 1/2 ounces) old-fashioned rolled oats or quick oats
1/2 cup coarsely chopped pecans
1/4 cup whole milk
1/4 cup heavy cream
1/4 cup maple syrup
1 large egg
1 1/2 cups (7 1/2 ounces) lower-protein unbleached all-purpose flour, such as Gold Medal or Pillsbury
2 teaspoons baking powder
1/2 teaspoon salt
10 tablespoons (1 1/4 sticks) cold unsalted butter, cut into 1/4 inch cubes

Glaze:
3 tablespoons maple syrup
1/2 cup confectioner's sugar

Adjust an oven rack to the middle position and heat the oven to 375 degrees F. Spread the oats and pecans evenly on a baking sheet and toast them in the oven until they are fragrant and lightly browned, 7 to 9 minutes; cool on a wire rack. Increase the oven temperature to 450 degrees. Line a second baking sheet with parchment paper. When the oats and pecans are cooled, measure out 2 tablespoons (for dusting the work surface) and set aside.
Whisk the milk, cream, maple syrup and egg in a large measuring cup until incorporated; remove 1 tablespoon to a small bowl and reserve for glazing.
Place the flour, baking powder and salt in the workbowl of a food processor fitted with the metal blade and process until combined, about four 1-second pulses. Scatter the cold butter evenly over the dry ingredients and process until the mixture resembles coarse cornmeal, twelve to fourteen 1-second pulses.
Transfer the mixture to a medium bowl; stir in the cooled oats and pecans. Using a rubber spatula, fold in the liquid ingredients until large clumps form. Using your hands, gently knead the mixture in the bowl until the dough forms a cohesive mass.
Dust the work surface with half of the reserved oats, turn the dough out onto the work surface, and dust the top with the remaining oats. Gently pat the dough into a 7-inch circle about 1 inch thick.
Using a bench scraper or chef's knife, cut the dough into 8 wedges and set on the parchment-lined baking sheet, spacing them about 2 inches apart. Brush the surfaces with the reserved milk-and-egg mixture.
Bake until golden brown, 12 to 14 minutes; cool scones on the baking sheet on a wire rack 5 minutes, then remove scones to a wire rack and cool to room temperature, about 30 minutes.
When the scones are cool, whisk 3 tablespoons maple syrup and 1/2 cup confectioner's sugar in a small bowl until combined; drizzle the glaze over the scones.
[ad name="space"]