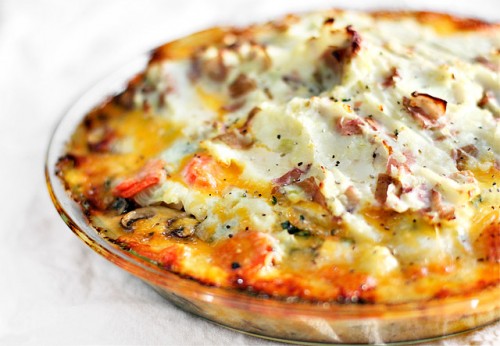 Sometimes, I totally miss the point.
Exhibit A, the conversation I had with Jeff this morning:
Jeff: Hey, I've been meaning to talk to you about that crack in your windshield.
Me: I KNOW! Doesn't it look just like the crack in the wall on Dr. Who?!? (Silence.) The crack on Amy's wall. The crack in the universe.
Jeff: I was just going to say we needed to get it fixed.
Exhibit B, the POINT of the "Green Market Baking Book"
is that it's dedicated to showing you how to bake using natural sweeteners, like maple syrup and honey, instead of refined sugar, corn syrup and artificial sugar products. So, I really should have taken my review copy, found an interesting dessert recipe (like the Spring Carrot Teacakes with Maple Cream Frosting on page 44) and tested it.
Instead, I immediately went for the Fennel and Mushroom Pie.
Don't let the idea that fennel tastes like licorice steer you away from trying it. Like an onion, fennel mellows as it cooks, becoming softer and sweeter. It's a perfect complement to earthy flavors, like roasted root vegetables or the mushrooms and new potatoes in this pie.
The pie has no crust. Instead, you build it with layers of cooked spring vegetables, herbs and cheese: bread crumbs first, then a layer of mushrooms sauteed with garlic and onions, a layer of boiled fennel and carrot, a sprinkling of parsley and basil, big handfuls of mozzarella and cheddar cheese, and a layer of new potatoes mashed with milk and butter. Repeat the layers, finishing with the potatoes on top.
It's a great alternative for people like me who like the idea of a quiche or a frittata but don't want something that eggy.
Feel free to experiment with layers of your favorite vegetables and cheeses. Spinach and Parmesan. Asparagus and Swiss. Zucchini and goat cheese. Cabbage. Cauliflower. Leeks. Roasted red pepper. This pie is so free-form, you could even use leftovers.
The vegetable layers require several pots, so you might want to make this pie on Sunday for your Meatless Monday meal. Like most one-dish meals, it's better on the second day, so making it ahead is a total win.
Plus, it gives you time to have the windshield crack in the universe repaired. Seriously, it's UNCANNY.
Fennel and Mushroom Pie

Courtesy of Laura C. Martin's "Green Market Baking Book"

Serves 6 to 8

1 pound new potatoes, scrubbed and sliced
2 tablespoons whole milk
1 tablespoon butter
1 fennel bulb, roughly cut
1 large carrot, sliced
2 tablespoons light olive oil
2 onions, finely chopped
1 clove garlic, minced
1/2 pound mushrooms, sliced
Salt and pepper
1/4 cup bread crumbs (gluten-free variation: use rolled oats or 1/3 cup finely chopped almonds)
2 tablespoons chopped fresh parsley
1/4 cup fresh basil
8 ounces mozzarella cheese, grated
8 ounces cheddar cheese, grated

Preheat the oven to 400 degrees F.
Cook the potatoes in salted boiling water for 10 to 15 minutes, until tender. Drain, then mash. While potatoes are still hot, mix in the milk and butter.
Cook the fennel and carrot in salted boiling water for about 7 minutes, until tender. Drain, and set aside.
Heat olive oil in a sauté pan, add onions, and cook for 5 to 10 minutes, until they begin to brown. Add the garlic, and cook for another minute. Add the mushrooms, and cook for another 2 minutes. Season with salt and pepper.
Sprinkle half the bread crumbs over the base of a shallow, ovenproof 9-inch baking dish. Add half the mushrooms and onions, fennel, parsley, basil, mozzarella and cheddar cheeses, and potatoes in layers. Repeat the layer, finishing with potatoes.
Bake for 20 to 30 minutes, or until heated through. (If you use a pie plate, place the plate on a baking sheet before you slide it in the oven to catch any spills.)

Gluten-Free Variation: Substitute 1/4 cup of rolled oats or 1/3 cup of finely chopped almonds for the bread crumbs.

Vegan Variation: Use vegan cheese, soy milk and a butter substitute.
[ad name="space"]