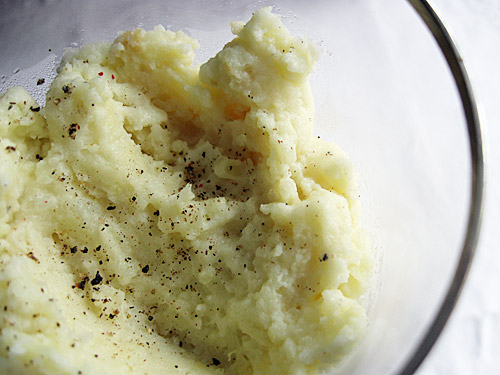 Whether you're looking for a good make-ahead holiday side or you have a deep-seated fear of mashing taters, this is the recipe for you: Blue Willow Inn's Holiday Mashed Potatoes.
Because, and I can't stress this enough, there's no room for error with mashed potatoes. They're your fallback food, the one side everybody loves. The buoy they'll reach for in a sea of cranberry-pear this and roasted squash that. We are hard-wired to love mashed potatoes.
In "A Christmas Story," what does Randy stick his face into and snort at the dinner table? Mashed potatoes.
What does John Belushi stuff into his cheeks in "Animal House"? Mashed potatoes!
What tasty, delicious material does Richard Dreyfuss sculpt in "Close Encounters of the Third Kind"? MASHED POTATOES!
Is there a dance called the Cranberry Sauce? Or the Green Bean Casserole? Nooooooo! I believe the only side dish to hold that honor is the Mashed Potato.
What I'm saying is, when it comes to making mashed potatoes for a holiday meal, you have to BRING IT.
I love the Blue Willow Inn's Holiday Mashed Potatoes, because you can refrigerate them overnight before baking them – or you can freeze them. Plus, they taste like the filling of a twice-baked potato, with a nice golden crust that reveals a velvety mixture of cream cheese, butter, sour cream, a little onion and … potatoes. The perfect mashed potatoes for snorting, stuffing, sculpting and satisfying everyone at your holiday table.
Holiday Mashed Potatoes

Slightly adapted from Louis and Billie Van Dyke's "The Blue Willow Inn Bible of Southern Cooking"

Makes 8 to 12 servings

3 pounds Yukon gold potatoes, peeled and quartered
1 (8-ounce) package softened cream cheese
1/2 cup (1 stick) butter, softened
1/2 cup sour cream
2 eggs, lightly beaten
1/4 onion, finely chopped
1/2 cup milk
Salt and pepper

Preheat the oven to 350 degrees F.
Place the potatoes in a large pot, and cover with water by at least 2 inches. Bring the water to a boil over high heat, then lower the heat to a simmer. Cook 15 to 20 minutes, until the potatoes are very tender. Drain.
Transfer the potatoes to a large mixing bowl, and mash them.
When the lumps are removed, add the cream cheese in small pieces and then the softened butter. Beat well until the cream cheese and the butter are both melted and mixed into the mashed potatoes.
Mix in the sour cream.
In another bowl, combine the eggs, onion and milk. Stir.
Add the milk mixture to the potato mixture, and mix well. Add salt and pepper to taste. Beat well until light and fluffy.
Place the potatoes in a greased round casserole dish, and refrigerate several hours or overnight. (The potatoes can be frozen at this point and later baked after thawing.) Bake for 45 minutes or until lightly browned on top.
[ad name="space"]