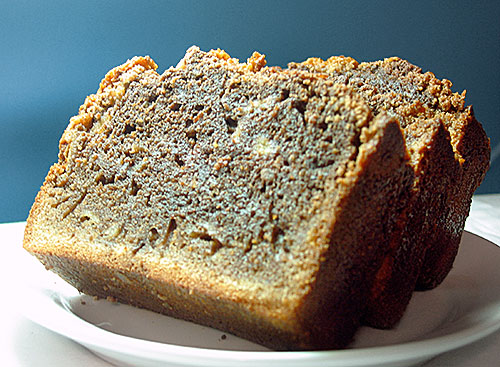 1. Prep this week's Tuesdays with Dorie recipe – The Black and White Banana Loaf – and lovingly place it in the oven.
2. Lock the front door before you go downstairs to check on the laundry.
3. Step into the laundry room, and close the door behind you. Realize it just locked.
4. Remember the banana bread.
5. Open the garage door, and run to the neighbors' house. Try to forget that you're wearing a Rocky T-shirt and workout pants.
6. Arrive as the entire extended family is gathered to welcome someone home from hospice care.
7. Ask to use the phone. Realize you're trying to call your husband during his office's weekly production meeting.
8. Call your mother.
So, my Black and White Banana Loaf was a bust. Attractiveness-impaired and flavor-challenged. But, I did learn that I have very good, very gracious neighbors. That the Rocky T-shirt has to go. And that our new house is very, very secure.
To try the Black and White Banana Loaf, check out the recipe at Ashlee's A Year in the Kitchen.
[ad name="space"]