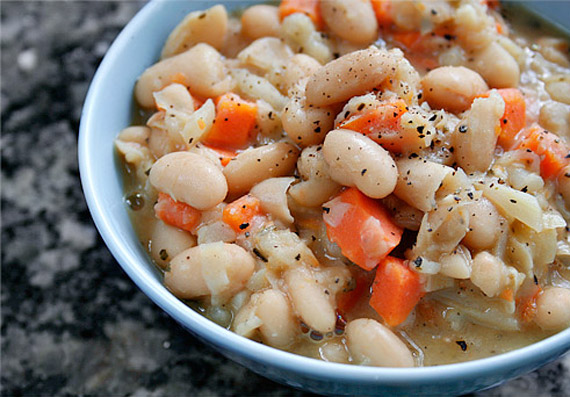 In Tuscany, cannellini beans are served as a side dish. Just something to take the place of potatoes or rice.
But a pot of beans this good – beans that have been simmered with fennel, carrots, garlic, sage and rosemary – deserves more respect. I mean, these aren't beans served straight from a can. These are main-course beans. They're like George Clooney, circa 1985. You can let them play second fiddle to Tootie on "The Facts of Life," or you can give them a starring role and watch them shine.
When I cook these Tuscan White Beans, I add a little extra stock to the pot, so the beans get really creamy and soupy. Then I serve them with a few thin slices of toasted Italian bread to sop up the liquid. Pair your bread and beans with something green, and you've got a simple, well-balanced supper. Clooney not included.
Tuscan White Beans

Adapted from Ina Garten's "Barefoot Contessa How Easy Is That?"

Serves 6

1 pound dried white cannellini beans (or about 4 15.8-ounce cans)
1/4 cup olive oil
4 cups chopped fennel (stalks, fronds, and core removed), about 2 large
2 cups chopped carrots (4 carrots)
1 tablespoon minced garlic (3 cloves)
1 to 2 cups vegetable stock or no-chicken chicken stock (just chicken stock, if you're not going meatless)*
1 tablespoon minced fresh sage leaves
1 tablespoon minced fresh rosemary leaves
2 teaspoons kosher salt
1/2 teaspoon freshly ground black pepper
1/2 cup freshly grated Pecorino Romano cheese

The night before, soak the beans in a large bowl with water to cover by at least 2 inches. Cover and refrigerate overnight.
The next day, drain the beans, rinse well, and place them in a large stockpot. Add twice as much water as you have beans, bring to a boil, lower the heat, and simmer uncovered for about 45 minutes, until the beans are very tender. Skim off any foam that accumulates.
Meanwhile, heat the olive oil in a large pan or Dutch oven over medium heat.
Add the fennel and carrots, and sauté for 8 to 10 minutes, stirring occasionally, until tender.
Add the garlic, and cook for 1 minute more.
Drain the beans, and add them to the vegetables.
Add 1 cup of the stock, sage, rosemary, salt and pepper, and simmer, stirring occasionally, for 12 to 15 minutes, until creamy. (If the beans are still hard after 15 minutes, add another 1/2 to 1 cup of stock, and continue to cook until the beans reach your desired consistency. Longer tends to be better.)
Stir in the Pecorino, season to taste, and serve hot.

*Gluten-Free Tip: Use GF stock.
[ad name="space"]