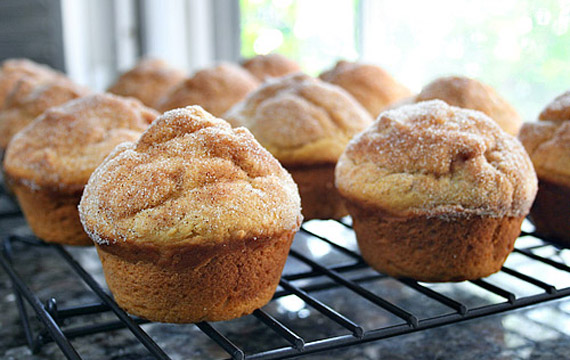 Sometimes she gets inside my head.
You know. Martha.
Last week, she was on "The Today Show," whipping up a batch of Pumpkin Doughnut Muffins. Spicy, cakey muffins brushed with butter and rolled in cinnamon sugar. Oh, yes. Makes the elastic in my Spanx pop just thinking about em. So, I only brushed and dipped the tops. Because that's how denial works. It's the only thing that separates us from the animals.
There's nothing tricky about making these muffins, but if you'd like to sleep in, you can bake and freeze the naked muffins ahead of time. Then, when you're ready, reheat them at 350 degrees F, and coat them in butter and sugar.
A pumpkin doughnut muffin and a big cup of coffee (flavored with gingerbread latte creamer) make a mighty fine breakfast, so bake a pan, and share the Martha love.
Pumpkin Doughnut Muffins

Adapted from "Everyday Food" (November 2010)

Makes 12 muffins

3 cups all-purpose flour (spooned and leveled), plus more for pan
2 1/2 teaspoons baking powder
1/4 teaspoon baking soda
1 teaspoon coarse salt
1/2 teaspoon ground nutmeg
1/4 teaspoon ground allspice
1/3 cup buttermilk
1 1/4 cups pure pumpkin purée (FROM a 15-ounce can, NOT the whole thing!)
1 3/4 sticks unsalted butter, room temperature
3/4 cup light brown sugar
2 large eggs

Glaze:
4 tablespoons unsalted butter, melted (use 1 to 2 tablespoons if just coating the tops)
3/4 cup granulated sugar
2 1/2 teaspoons cinnamon

Preheat oven to 350 degrees. Butter and flour 12 standard muffin cups.
In a large bowl, whisk together the dry ingredients. Set aside.
In a small bowl, whisk together the pumpkin and buttermilk. Set aside.
Using an electric mixer, cream the butter and brown sugar.
Add the eggs, one at a time, scraping bowl as needed.
With the mixer on low, add flour mixture in three additions, alternating with two additions pumpkin mixture, and beat to combine.
Spoon 1/3 cup batter into each muffin cup. Bake for 30 minutes.
Let muffins cool 10 minutes in pan on a wire rack.
Working with one at a time, remove muffins from pan, brush all over with melted unsalted butter, then toss to coat in sugar mixture. Let muffins cool completely on a wire rack. Store in an airtight container, up to 1 day.

FREEZING: The naked muffins can be frozen for up to 3 months. Reheat in a 350 degree oven, then coat in butter and sugar.
[ad name="space"]