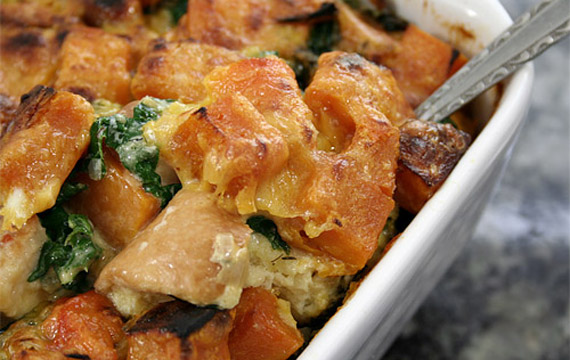 A few weeks ago, Brandy messaged me on Facebook with a great question: What could she make for her newly vegetarian sister's Thanksgiving meal?
First, kudos to Brandy for not assuming that her sister would either a.) eat tofurkey or b.) just make a meal of the Thanksgiving sides. I know, the side dish idea works in theory, because it seems like the autumnal version of the summer vegetable plate. But think about our favorite Thanksgiving sides. Not exactly clean eating. Many are cooked, seasoned, moistened or sprinkled with meaty things, so they're out. And you can't ask someone to make a meal out of sweet potato casserole, cranberry sauce and Sister Schubert rolls. That's just wrong.
Tempting, but wrong.
So, over the next few weeks, I'm going to be posting some Thanksgiving vegetarian entrees – things that are seasonal and substantial  – starting with this slight adaptation of Molly Wizenberg's Butternut Squash, Kale and Cheddar Bread Pudding. You start with cubes of bread that have been soaked in a savory custard, and layer them with sautéed kale and shallots, cubes of sweet roasted squash and several large handfuls of extra-sharp cheddar cheese. Then you pour the remaining custard over the pudding, and count the minutes until it comes out of the oven, all baked and golden, full of flavors and textures that shouldn't make sense together but do.
You just can't say the same about tofurkey.
Butternut Squash, Kale and Cheddar Bread Pudding

Adapted from Molly Wizenberg's original recipe ("Bon Appetit," November 2009)

This pudding is even better the next day, so feel free to bake it and let it rest in the refrigerator overnight before you dig in.

2 pounds peeled seeded butternut squash, cut into 1-inch cubes (about 6 cups)
3 tablespoons olive oil, divided
Kosher salt
Freshly ground black pepper
7 large eggs
2 1/4 cups half and half
6 tablespoons dry white wine (or hard cider)
2 tablespoons chopped fresh thyme (or 1 tablespoon dried)
1 tablespoon chopped fresh sage (or 1/2 tablespoon dried)
1 tablespoon Dijon mustard
1 day-old baguette (do not remove crust), cut into 1-inch cubes (about 8 cups)
1 cup chopped shallots (about 4 large)
2 cloves garlic, finely chopped
1/4 teaspoon crushed red pepper flakes (optional)
2 bunches Tuscan kale (about 1 pound), ribs removed, kale coarsely chopped (can be substituted with spinach)`
8 ounces extra-sharp cheddar cheese, coarsely grated

Preheat oven to 400 degrees F. Place squash and 1 tablespoon oil in a large bowl; sprinkle with salt and pepper, and toss to coat. Spread out squash cubes on a large rimmed baking sheet. Roast until squash is tender, stirring occasionally, about 25 minutes. Set aside.
Reduce oven temperature to 350 degrees F.
Whisk eggs in large bowl. Continue whisking as you add half and half, wine, thyme, sage, mustard, 1 teaspoon kosher salt, and 1 teaspoon freshly ground black pepper. Add baguette cubes to the egg mixture, and gently fold them into the mixture to coat each side. Let the baguette pieces soak 30 minutes, stirring occasionally.
Meanwhile, heat 2 tablespoons oil in large pot over medium heat. Add shallots, garlic, and crushed red pepper flakes, and sauté until soft and fragrant, stirring frequently, about 5 minutes. Add kale; cover and cook 2 minutes. Uncover the pot, and stir until kale is wilted but still bright green, about 5 minutes (the kale will still be a little crunchy).
Generously butter a 9-by-13-inch baking dish. Using slotted spoon, transfer half of bread from egg mixture to the dish, spreading evenly. Spoon half of kale over the bread layer. Spoon half of squash over the kale layer, and sprinkle it with half of the cheese. Repeat with remaining bread, kale, squash, and cheese. Pour the remaining egg mixture over the bread pudding.
Cover bread pudding with foil, and bake for 20 minutes. Remove foil; bake uncovered until custard is set, about 20 minutes longer.
Preheat broiler; broil pudding until cheese browns slightly, about 2 minutes. Cool 5 minutes and serve.
[ad name="space"]